Community Needs Assessment Reports Some Progress, Still More Needs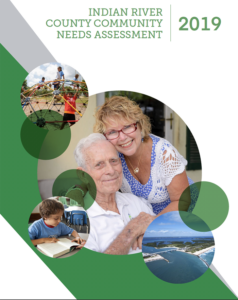 For the first time in a decade, major funding organizations, donor groups, County government and community leaders came together to assess the needs of Indian River County residents on a comprehensive basis. More than $130,000 in funding for the project was provided by Indian River County, the Florida Department of Health, Indian River Community Foundation, United Way of Indian River County, John's Island Community Service League, John's Island Foundation and Head Heart Hands of Indian River Club. The result of this significant collective effort is the Indian River County Community Needs Assessment.
"We believe this report will serve as an important resource that can help stakeholders work toward effective solutions that improve the quality of life in our community," said Jason Brown, Indian River County Administrator.
Over the span of one year, an advisory committee worked together with the independent Q-Q Consultants to gather, review and analyze information from recent studies, along with input from subject matter experts and the leadership, staff and clients of more than 50 local nonprofit agencies. Residents from across the County, representing some of the most economically challenged neighborhoods, also participated directly by sharing their needs through written surveys in English, Spanish and Creole and by speaking up at focus groups. Overall, the five main areas reviewed in the assessment were children, economic opportunity and employment, health, housing and seniors.
"Since much of the work was completed prior to any widespread awareness of COVID-19, the report's findings are likely to be overly optimistic, at least for the immediate future," said Michael Kint, CEO of United Way of Indian River County. "That said, we are proud of the progress that is being made in certain areas. Infant mortality has decreased, early childhood education is improving and access to mental health and substance abuse recovery services has increased as a direct result of community collaborations."
However, bigger problems persist. "There are some stubborn issues that will require significant long-term investments of both private and public resources if lasting change is expected," said Jeff Pickering, President and CEO of Indian River Community Foundation. "Too many of our neighbors work in jobs that do not pay enough to afford safe, quality housing. Too many of our children are not prepared for kindergarten, fail to read on grade level by 3rd grade and do not finish high school. Too many of our teens engage in risky behaviors like drinking alcohol and vaping. Too many of our County's residents lack affordable medical, dental and mental health care. Too many of our community's low-income seniors live alone, in substandard housing without adequate social interaction."
"Philanthropy can help bring new ideas to the table or build promising practices," Pickering continued.  "Someday, however, this community is going to have to dedicate substantial public funding to move the needle in areas like education, healthcare and housing for the most vulnerable if we want to overcome these persistent challenges."
Volunteers and donors may use the Community Needs Assessment to identify areas where time and money could benefit organizations and projects that are already proving to make a difference. Community leaders and philanthropists may use the report to develop collaborative efforts that can address some of the more persistent challenges. Advocates may use the findings of the Community Needs Assessment to help educate local employers about the benefits of paying their employees a living wage, or to educate taxpayers about the benefits of increasing support for children's services and education. Government officials can use the report to determine where additional public tax dollars might generate greater impact.
For more information about the Community Needs Assessment, please contact Indian River Community Foundation at 772.492.1407 or the United Way of Indian River County at 772.567.8900. Digital copies of the executive summary and full report may also be found at www.ircommunityfoundation.org and www.unitedwayirc.org.
Originally published in Your Newsweekly, please click here to see the original article.