Continuing the Remarkable Legacy of Ellie McCabe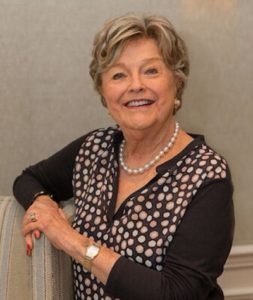 Ellie McCabe passed away at the age of 87 on December 26, 2021. She was a well respected philanthropist and advocate for mental health. Her philanthropic efforts began with her father through The Wahlstrom Foundation, later renamed The Robert F. and Elenora W. McCabe Foundation, and continued when she moved full-time to Vero Beach in 1983. Ellie was a large contributor in founding nonprofit organizations such as the Vero Beach Museum of Art, John's Island Foundation, the Mental Health Association's Mental Health Walk-in Center, and the Mental Health Collaborative. She also served on the Board of Directors of Saint Edward's School, the Visiting Nurse Association of the Treasure Coast, and Indian River Impact 100.
In 2017, Mr. and Mrs. McCabe moved their private foundation to Indian River Community Foundation.
Ellie requested memorial contributions be made to the Endowment for Better Mental Health at Indian River Community Foundation. Click here to make a contribution online or mail a check to Indian River Community Foundation, P.O. Box 643968.
Bob and Ellie McCabe also became members of The Alma Lee Loy Society which honors donors who have entrusted Indian River Community Foundation with their charitable legacy. To learn more about making a planned gift from an estate, visit www.ircflegacy.org or call 772.492.1407.