IRCF Awards Senior Resource Association $42,000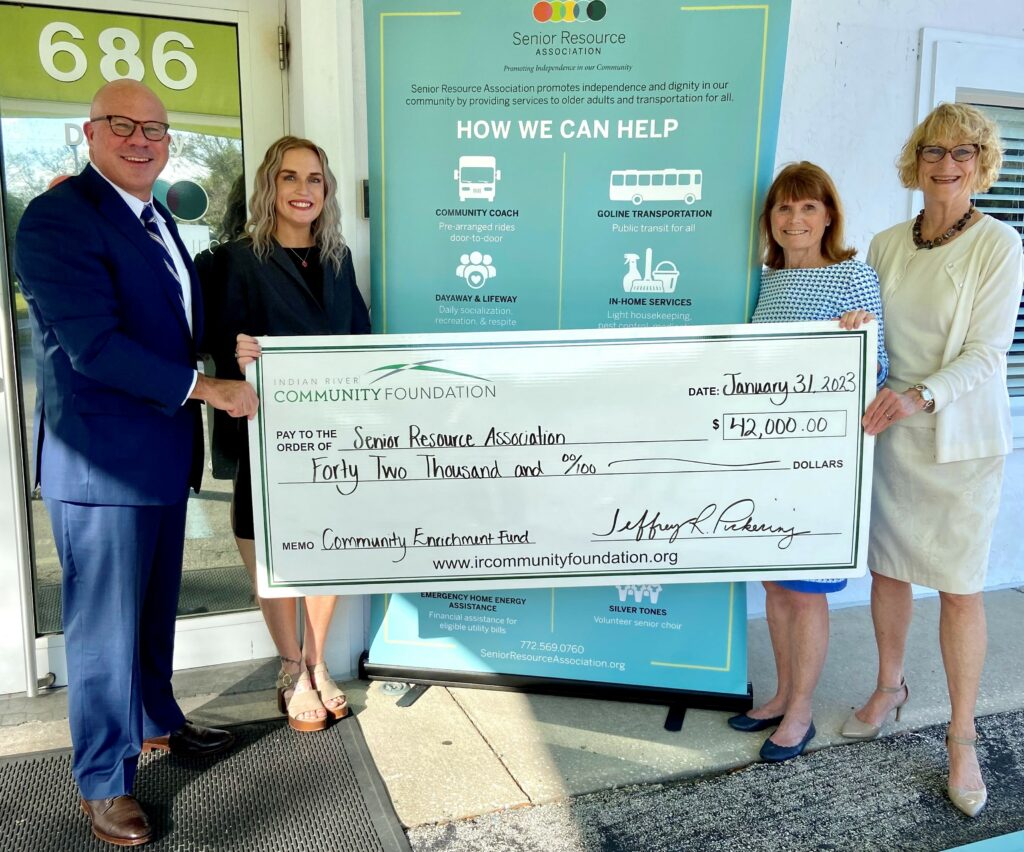 Senior Resource Association (SRA) promotes independence and dignity in our community by providing services to older adults and transportation for all. On January 31st, Indian River Community Foundation awarded SRA $42,000 to support their Main Campus Improvement Plan. Grant funds will be used to make necessary renovations in order to continue providing crucial services.
Senior Resource Association's 14th Street campus is comprised of four primary buildings and two ancillary inventory structures. Since opening its doors in 1974, SRA has strategically grown this location, becoming a true hub of quality-of-life initiatives and the heart of life-saving and life-changing services for IRC seniors. SRA is continued to be recognized as the lead agency in Indian River County for home and community-based services for seniors and adults age 18 and older that need supervised care in a safe and welcoming environment. SRA provides nourishment, supervised socialization, transportation and information referral services for seniors and their families. Their goal is to keep seniors healthy and in their own homes for as long as safely possible.
Senior Resource Association is also a part of our Endowment Partners Program (EPP). The purpose of the EPP is to help local charities plan for their long-term sustainability by growing a permanent endowment fund. During a 12-month program, participants learn about endowments, planned giving, investment management and marketing solutions that inspire loyal donors to make planned gifts from their estates. The program is coordinated by IRCF team member Yamilet Cendejas.
Indian River Community Foundation's discretionary grantmaking is aligned with a vision of a more healthy, prosperous, and generous Indian River County community. Grantmaking priorities are informed by the findings of the most recent community needs assessment and the most current data and information collected on Indian River Indicators. Grants from the Community Enrichment Fund are reviewed by a Grants Committee comprised of volunteers Suzanne Bertman, Pat Brier, Toni Hamner, Dale Jacobs, Wanda Lincoln, Dawn Michael, Angelia Perry, and Jennifer Watson.
IRCF holds monthly informational sessions for nonprofit 501(c)(3) organizations serving Indian River County who are interested in applying for a competitive grant. If interested, please call 772.492.1407 or email Brooke Sauserman to reserve your spot. Please read our Guidelines before registering.