Register for the 2023 Advocacy for Nonprofit Professionals Event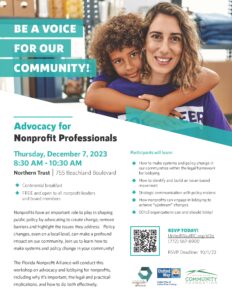 On December 7th, The Florida Nonprofit Alliance will conduct a free workshop on advocacy and lobbying for nonprofits. This workshop will be held at Northern Trust and will be open to all nonprofit leaders and board members.
Nonprofits have an important role to play in shaping public policy by advocating to create change, remove barriers and highlight the issues they address. Policy changes, even on a local level, can make a profound impact on our community. Join us to learn how to make systems and policy change in your community!
Participants will learn:
How to make systems and policy change in our communities within the legal framework for lobbying
How to identify and build an issue-based movement
Strategic communication with policy makers
How nonprofits can engage in lobbying to achieve "upstream" changes